Everybody knows that meat loaf is the ultimate comfort food, but what else can you do with that easy-to-use, affordable, nutritious freezer staple? Here are 101 easy and delicious recipes to make the most out of ground chuck, hamburger, and turkeyburger.
$9.89
More Information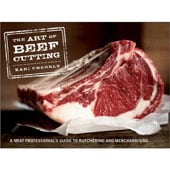 The ultimate guide to beef fundamentals and master cutting techniques
An ideal training tool that s perfect for use in grocery stores, restaurants, foodservice companies, and culinary schools, as well as by serious home butchers, The Art of Beef...
$28.13
More Information